I wish to persuade you of something: That
however much public speaking skills matter today,
they are going to matter even more in the future.
Chris Anderson: TED Talks
Every professional can be a better professional by becoming a better public speaker
Every citizen can be a better citizen by becoming a better public speaker & storyteller
Every engineer can be a better engineer by becoming a better public speaker & storyteller


Necessary Bridges can help you acquire public speaking expertise
Rashid N. Kapadia can persuade you to become a BRILLIANT Speaker!

Every engineer & STEM professional can articulate an engineering & STEM challenge as eloquently and inspirationally, as the speaker does in the audio of this clip.
At the very least, every engineer and STEM professional can aspire to do so.
Necessary Bridges has been created primarily to persuade project managers, engineers, IT professionals—and all STEM professionals—to make a 100% commitment to acquiring expertise in public speaking and storytelling.
Statement by Healthcare Leadership Expert Tim Durkin
Necessary Bridges is an excellent, dare I say indispensable, book for anyone who is or aspires to be a project manager, engineer, accountant or scientist.
Kapadia is a gifted writer as well as speaker. His goal is to enable and ennoble those who aspire to succeed in the STEM based vocations.
This book is a specific how-to, owners manual for speaking success. I enjoyed every page and learned a great deal. It is the best book I have ever read on the subject.
Tim Durkin, Healthcare Leadership Expert
P.S. I have been speaking professionally for over 20 years.
… By the way, please know that I take this book to each of my management courses
I teach at SMU, and actually show it to the executives, (it's an Executive
Education program) most of whom are engineers or IT professionals. I
tell them it's the one book they need to become top notch presenters and
speakers.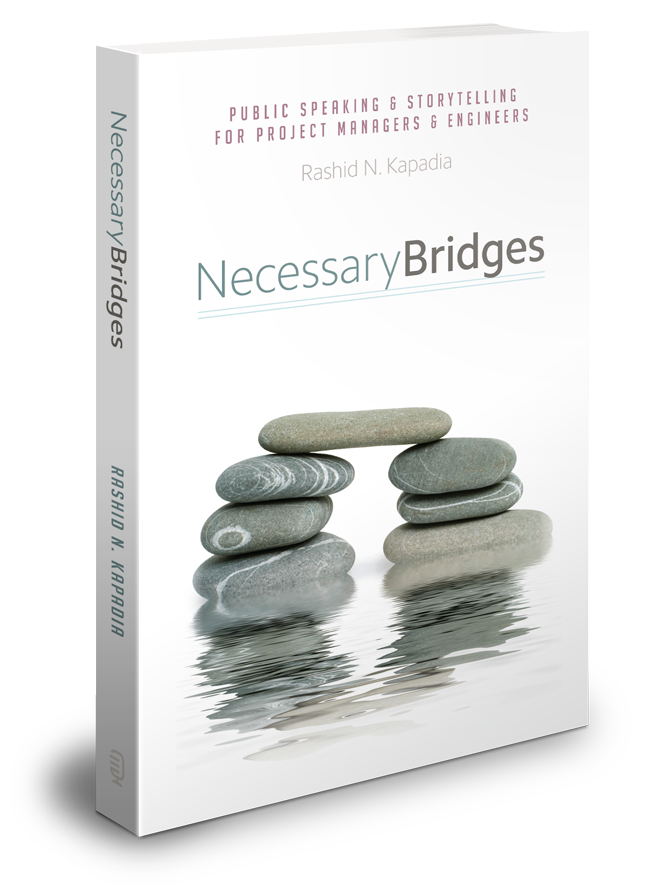 STEM = Science Technology Engineering Mathematics
Audio = JFK/Moon Speech Segment/Rice University Sept 12, 1962